What is blended learning? FREE online training!
What is blended learning? It is simply a way in which the children pre-learn the main facts about the subject in the home, so they can then take this learning to new and adventurous levels in the classroom. If the teacher does not need to focus on the main, basic facts, they can then use this pre-learned material in debates, discussions and other flexible activities. Those who don't complete the pre-learning at home, will need to do so in the classroom, while watching their more studious friends have a lot more fun!
There are three components to blended learning:
It should be a controlled mix of online learning and in – class traditional learning.
It should have a part of it completed in a supervised space, where the students can share and explore what they have learnt individually.
The lessons should give students, at least in part, some control of the direction of their learning, where they learn and how they learn. They should also be able to take the learning at their own pace – some love slow but deep learning, while others are more into a faster, broader but shallower approach to information.
Today I have been searching for shorter, easier examples on learning about blended learning online.
Today I found this FREE course –
Blended Learning: Personalizing Education for Students
by a collaboration of lecturers and researchers from New Teacher Center, Silicon Schools Fund, Clayton Christensen Institute and Relay Graduate School of Education
What are the benefits of a course explaining "What is blended learning?"
It has an impressive Content Rating 97% (3,444 ratings) and an overall score of 4.9 stars from 64 ratings and 22 reviews
What is the outline benefits of this course?
50% got a tangible career benefit from this course

50% got a pay increase or promotion

In addition, for a small fee of $49, you can get a shareable certificate, to impress future employers with or to show you really do take either your own or if you are a school, your staffs professional development very seriously.

Earn a Certificate upon completion – it has been found those who pay the $49 fee are actually far more likely to study hard and succeed as now they have 'skin in the game' and they know they have to prove they are providing value for money to their employers – no one like to let down someone who has put up the money to help them improve. Of course, for those who can't afford it, the information is still there for free and really should be taken.

As these courses are 100% online, this means that anyone, anywhere can complete the courses at a speed which best suits the learner.

Start instantly and learn at your own schedule. Needless to say, the sooner you learn, the quicker you will be able to put your ideas directly into action. This is of great great benefit to both you and your class.

Flexible deadlines – because of course, in these turbulent times, it is possible your attention will need to be put elsewhere as your school switches from online to offline and back again. This takes up lots of time, effort and emotional resources and you might simply not feel ready to study. The good news is you will be able to reset your deadlines in accordance to your schedule. Coursera want you to actively succeed and make the world a much better place.

This course is a lot shorter than the last one – Approximately 11 hours to complete

This course is taught in English but there are subtitles in both English and Russian
With 7,440 already enrolled, you can be confident that this is going to be an amazing learning experience and certainly one which will benefit you long into the future.
Click on this link –
Blended Learning: Personalizing Education for Students
and discover why so many people have moved over to this type of teaching. It is also worth setting yourself up like this, so you can help support and encourage other teachers in your school who also want to follow your inspirational learning path.
Don't forget, you can always return to our home page – https://www.firstmaths.com/ to see what other exciting free online courses I have discovered for teachers.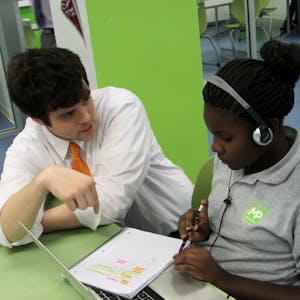 (Visited 95 times, 1 visits today)